Vortex Energy Services proudly offers industry-leading drone surveying services as part of its Civil & Environmental Division.
Drone surveying has a wide variety of applications in Western Canada's challenging terrain, including cartography, topography, land management, volumetric measurement, and other data in remote and inaccessible locations. Drones provide fast, efficient data collection for any operation, up to five times faster than traditional land-based surveying methods.
Vortex drone surveying makes collecting data faster and less expensive for operations of all sizes and scopes. No matter the project, Vortex is ready to help keep you on schedule and on budget, allowing for smooth execution, faster completion, and increased ROI for stakeholders.
DJI Matrice 300 RTk Drones
45 MP Camera
Full-Frame Sensor
f/2.8 – f/16 Aperture Scale
Georeferenced Imagery for High-Accuracy Mapping
Volumetric Inventory Measurement
Topographic Surveying
Heat Mapping
3D Models
2D Orthography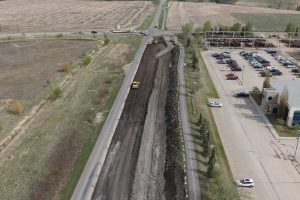 Speed: Up to 5 times faster than traditional land surveying methods
Efficiency: Collect multiple data types in one flight and get the info you need faster.
Safety: Protect your workers, equipment, and environment with accurate data on your surroundings.