Horizontal directional drilling (also known as HDD or directional boring) is a fast, cost-effective, and environmentally-friendly alternative to traditional trenching and excavation methods. Over the last several decades, it has become the industry standard for below-ground pipe and conduit installation.
In Western Canada's competitive marketplace, there are plenty of options for operations requiring HDD and support. However, today's demanding operations need experienced, reliable drilling crews to ensure work is completed fast and efficiently, keeping their project on schedule and maximizing value for their stakeholders.
Vortex Energy Services offers full-service horizontal directional drilling solutions for various applications, including pipelines, underground utility installation, and more. Read on to learn the benefits of partnering with Vortex for your next horizontal directional drilling project.
Safety & Experience
Compared to traditional trenching and open excavation, HDD is significantly safer for both workers and equipment. However, an inexperienced or negligent crew can still endanger themselves, their equipment, and the environment by not taking appropriate precautions. What's more, accidents can cost both time and money, diminishing your stakeholders' return on investment.
At Vortex, safety is our top priority for every project. Our operators and crews have decades of experience in numerous hazardous and challenging environments, and are committed to working efficiently and safely through every stage of your HDD project. With comprehensive safety certifications and compliances, your organization can rest assured that your next horizontal drilling project will go smoothly.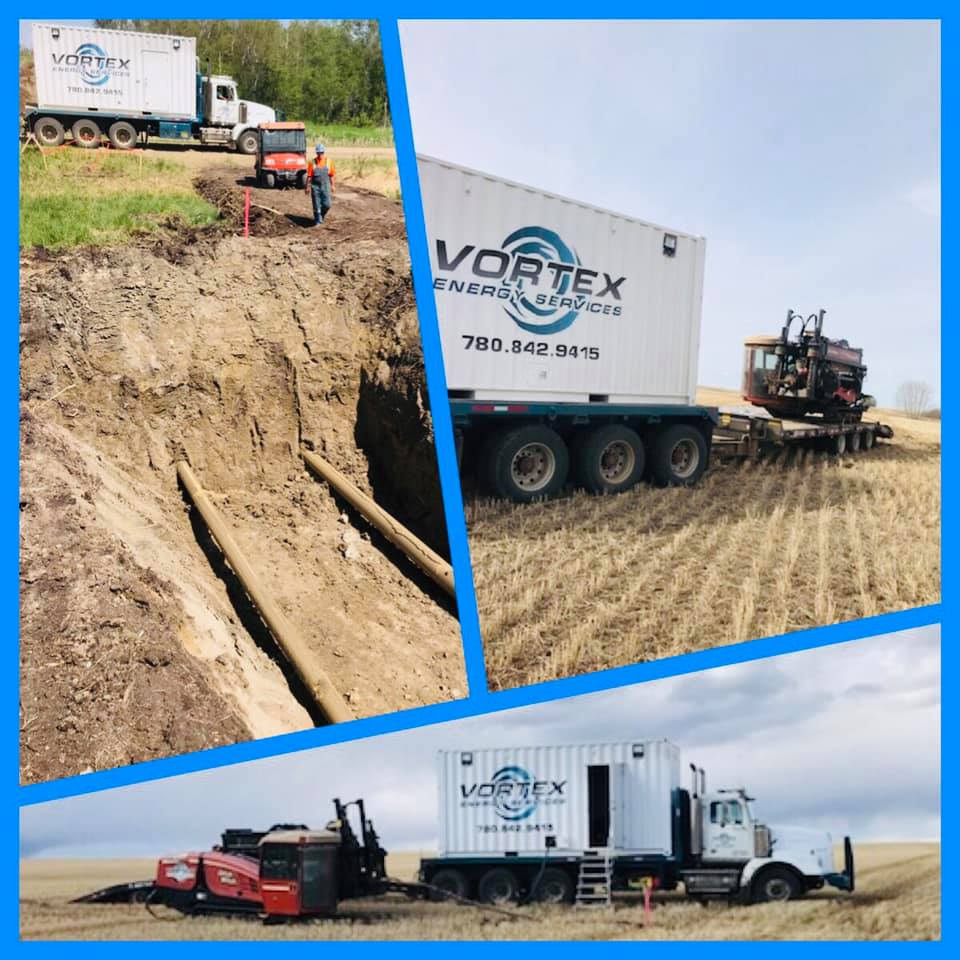 Efficiency From Start to Finish
One of the other key benefits of horizontal directional drilling is its cost-efficiency compared to trenching. HDD only requires two small worksites on either end of the pipe, taking significantly less time and fewer crew members to set up, tear down, and restore to their original condition.
Vortex is committed to taking these benefits even further, saving you time and money before your project even begins. As a 100% Alberta-owned and operated company, we cut out the "middlemen" by giving you direct access to our in-house equipment and experienced crews at a competitive price. Once we're on your site, our commitment to efficiency ensures minimal downtime, maximum ROI, and world-class installation of underground pipes and conduits.
Full-Service HDD Solutions
In addition to horizontal directional drilling, Vortex Energy Services offers complete solutions for your next project, including:
Pre-job consulting and assessment
Pipe Fusion
Excavation
And More!
No matter what your operation requires, Vortex Energy Services is ready to provide start-to-finish solutions with unbeatable value. With facilities across Western Canada, no deadline is too narrow or job site too remote to get world-class HDD solutions for your next project.
Ready to Learn More?
Contact us today to find out about Vortex Energy Services' horizontal directional drilling services.